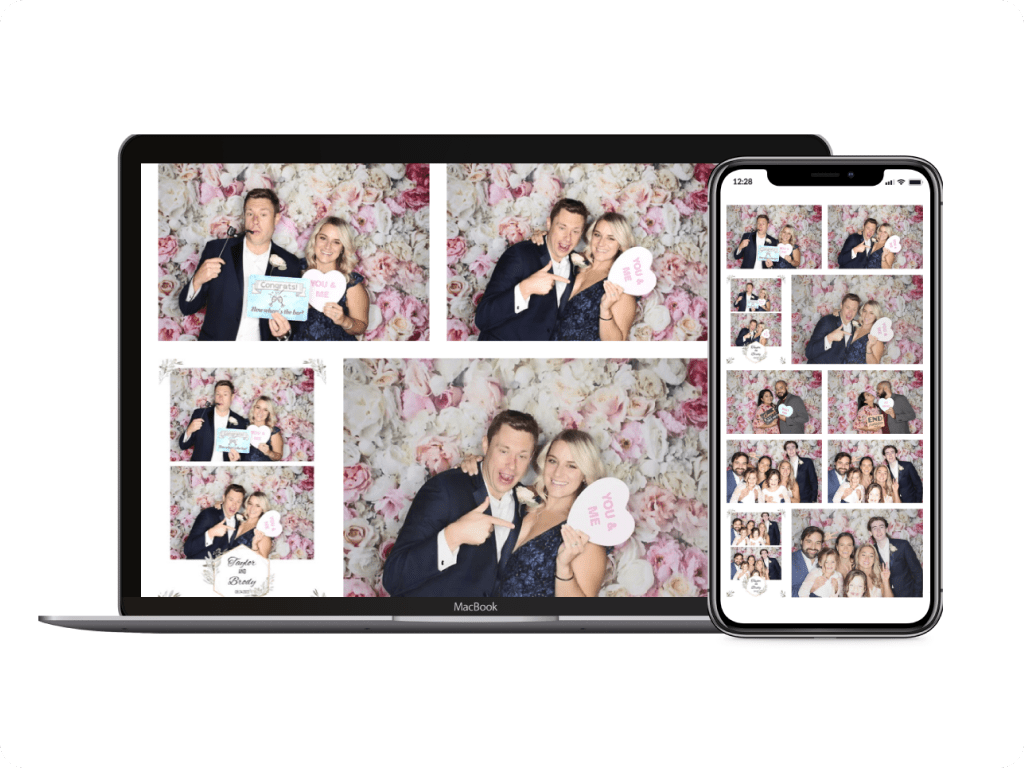 Get Branded Photo Booths With Online Galleries At Your Next Event
28, February, 2023
Usually, guests share photos in small circles, but online galleries from photo booths put all the event photos in one place.
Selfie photo booths bring your clients, business partners, and friends together to capture the moment. They've come a long way from the booths inside movie theaters and arcades. Traditional booths had printed photos to take home, but sharing them wasn't convenient. Modern photo booth rentals keep the thrill going after the pictures get snapped with shareable online galleries.
Online galleries can be shared with anyone you want. Perhaps you just want those at the event to have access. You can choose to control that. If you publish the photos to your social media, you'll be able to track engagement and impressions.
Everyone is smiling together in the same place, and those memories will always be there to reminisce on.
Make Stronger Connections and Memories with a Photo Booth Rental
For businesses, a photo booth rental can bring everyone at events closer with shareable galleries. This is perfect for events and functions that need to engage an audience on social media. Instead of sending photographers around the venue, guests can step in and out of the spotlight at will.
As the event continues, everyone will be able to see new additions in real time. But there's more! You can choose plain backdrops and custom options too. A few props can help connect the photos to a specific brand, and so can the right background.
The images have options too. Take everything to the next level with branded photos, GIFs, and boomerangs. In addition, blemish removal and skin smoothing are available with some photo booth rentals.
A photo booth rental also has a custom-printed exterior to fit its surroundings. So whether it's a corporate event, wedding, or party, collaborate with us to choose the perfect backdrop. We'll give you a custom quote and talk through these kinds of options.
The Kardashian Booth is Perfect for Weddings and Parties
Kim always gets her angles and makeup perfect, and so does the Kardashian Booth. Black and white photos give a timeless feeling to any occasion. Our photo booth rentals are always fine-tuned and adjusted for the venue's lighting. We want to make sure every photo is professional. Our prints are high quality and ready to go once the photos are taken.
After the DLSR camera snaps the photos, the skin smoothing software does the rest. In the end, you'll have prints and digital copies ready for Vogue or GQ. You'll also have the chance to insert a logo or tagline. In addition, guests can share images and gifts using text or email, as well as the online gallery.
Branded Booths Give Corporate Events More Personality
Engaging photos need personality. Our branded photo booths utilize props and optional custom backdrops. Logos and event names can be added to prints and digital images to professionally brand the event. Take a look at our Subway Launch Party booth, where we used custom backdrops and props to snap some great event photos.
You can share photos in various ways, just like our other booths. For example, instead of guests sharing their event selfies with a small circle, you can include everyone in the same gallery. That's another opportunity to drive engagement traffic in specific ways.
Set Up a Photo Booth at Your Next Event
Having a photo booth at a party, corporate event, or wedding shows that you went the extra mile for your guests. The opportunities don't end there. Photo booth rentals add to trade shows, festivals, and even restaurants or hotels. In the right long-term location, social engagement for a brand can increase significantly. Set up a Selfie Station in a high-traffic area for the best results. Photo booths for short-term rentals like weddings create a stronger connection to the event.
There are dozens of backdrops to choose from, along with photography and sharing options. To rent or buy a photo booth, speak with one of our staff members. We'll guide you through the different types of booths and choose the best style for your event.
Take the extra step and make your event spectacular with a branded photo booth rental. Share your experience! Contact us, and let's talk about it on our social media.